SPIDER-MAN HAS COME TO ZIPCITY MACAU TO ENJOY THE FUN OF ZIPLINE FLY!
2022-02-15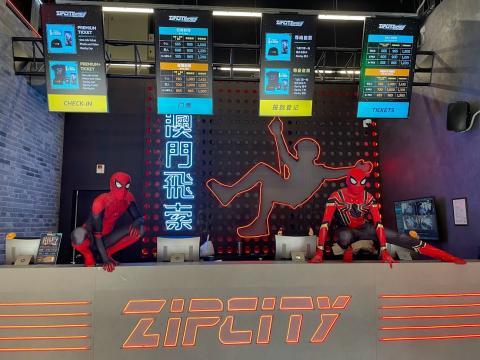 Spider-Man has come to ZipCity Macau to enjoy the fun of zipline fly! Come experience the zipline fun like Spider-Man now! [Book here]
Although there are 2 Spider-Man showed up at ZipCity Macau, looking at their posture and flying gesture with your sharp eyes, who do you think is the real Spider-Man?
Enjoy the attractive family and student group packages offers at ZipCity ! [Book here]
蜘蛛俠也來ZIPCITY澳門飛索享受飛行的樂趣!  必看!蜘蛛俠的獨家飛行秘技!
澳門飛索 獨家揭秘蜘蛛俠在高空飛索上的飛行英姿,太厲害了!眼睛雪亮的你,看他們的飛行姿勢、樣子和功架,你認為誰才是蜘蛛俠呢?
除了視覺福利,當然仲有飛索優惠啦!現在英皇戲院VIP會員體驗任何飛索冒險旅程,均可享8折優惠及尊享品牌雨傘禮品一份(零售價總值澳門幣100元)。
馬上[訂購]你的飛索旅程:
為滿足家庭及團體共享飛索樂趣,澳門飛索亦已推出多款套票優惠:[馬上訂購]