ZIPCITY MACAU announces seasonal promotion offers
2021-09-29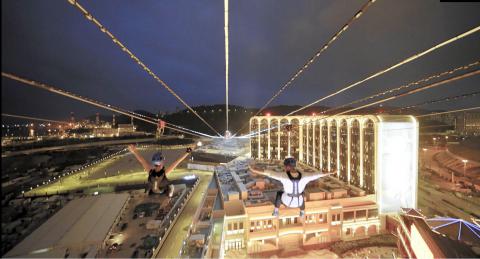 ZIPCITY MACAU, the World's First Immersive Urban Zipline Attraction, announces seasonal promotion offers
An iconic and world-class zipline attraction that combines the exhilarating thrills of ziplining with a spectacular audio-visual experience. 
ZIPCITY Macau is the world's first immersive urban zipline attraction and is located at the Lisboeta Macau, within the famous international tourism and leisure destination of Cotai, Macau.
ZIPCITY Macau is  a family attraction that combines the exhilarating thrills of ziplining with extra-sensory audio-visual experiences.
To celebrate Golden Week, ZIPCITY Macau introduces promotion offers for families, students, and groups to enable local guests to enjoy its unique design, world-class engineering, and ground-breaking audio-visual technology – with their friends and families.
"When we visioned and designed ZIPCITY, we had groups and families at the front of our minds. Our zipline attraction experience is made to be enjoyed with others, so it brings us great pleasure to celebrate Golden Week by announcing these spectacular group offers for Macau locals to enjoy with their families and friends" says Scott Davies, CEO of ZIPCITY Macau.
Special offers are available for families, student groups and groups of 10+ can found at www.zipcity.com. Special experiences for special events can be arranged by contacting the zipcity team via email or at +853 2888 6785.
Today, ZIPCITY Macau also releases its re-ride promotion, enabling all customers to fly again on the same day and re-live the excitement.
The ZIPCITY Flight Experience
Get ready to step into the future and embark on a gravity defying, fantastical flight into another dimension.
After purchasing a ticket in our themed box-office, online at www.zipcity.com, or through one of our partner agents, ZIPCITY guests ascend a 60-metre high custom-built 'take-off tower' arriving at the take-off deck. From the deck, customers get a panoramic view across the Cotai area and overlook the Lisboeta Macau's 'retrospective zone', which includes a replica of the iconic "Macau Palace" floating casino through to a "futuristic zone" as a time travel experience.
ZIPCITY has five ziplines, enabling five customers to embark together on a 388-meter journey (the world's third longest urban zipline) through the sky of Cotai, reaching speeds of up to 55 kilometers per hour.
ZIPCITY riders can choose to fly either during the day or at night. In the day, enjoying panoramic views of Lisboeta Macau and neighbouring Cotai properties. At night, a spectacular audio-visual show awaits. 
"ZIPCITY Macau aims to become a world-renowned zipline destination and one of the best things to do in Macau. We expect guests from all around the world to enjoy the multi-sensory zipline adventure at ZIPCITY – and experience the flight-of-a-lifetime." said Scott Davies, Chief Executive Officer of ZIPCITY Macau.
Beyond the flight
All ZIPCITY tickets include a complimentary photo and video package. AI (Artificial Intelligence) powered wide angle video cameras are provided to customers before their flights, and all the fun and excitement of the ZIPCITY flight experience is captured, edited using AI and digitally delivered to the customer within minutes of their arrival at the ZIPCITY landing tower, thus enabling customers to instantly share their adventure with their friends and family.
An exclusive range of ZIPCITY merchandise is available at the ZIPCITY retail store, or customers may buy a premium package to enjoy discounts on our hottest items.
Post flight, ZIPCITY guests can enjoy  Lisboeta Macau's multitude of experiences. This unique destination features two themed zones (the retrospective zone, and the futuristic zone). Guests can enjoy the different atmosphere brought by the two zones as if a time travel journey, various dining options and other adventurous attractions.
World Class
ZIPCITY is engineered, constructed and operated to exceed the highest and most stringent standards in our industry. ZIPCITY exceeds all best practices for the development and operation of world-class zipline attractions. ZIPCITY is dedicated to adhering the highest standard of safety and operations, and ZIPCITY is a member of ACCT (Association of Challenge Course Technology) that governs safety and provides professional training for the global zipline industry.
ZIPCITY operates day and night every Thursday to Sunday (weather permitting) and welcomes individuals and groups. Check out www.zipcity.com for opening hours and current ride status.
About Lisboeta Macau
Lisboeta Macau, located at Cotai, Macau, is the first travel destination with collective memories of Macau, incorporating details inspired by the iconic buildings etched into the collective memory of Macau locals, such as Hotel Estoril, the floating casino "Macau Palace" and the New Central Hotel. Lisboeta Hotel offers 820 guestrooms with three unique themes – Lisboeta, LINE FRIENDS presents CASA DE AMIGO and Maison L'Occitane. Also includes Night Market @ Lisboeta, shopping mall and other dining facilities, paired with new entertainment attractions including GOAIRBORNE, ZIPCITY Macau, Emperor Cinemas, Guia Electric Karting and Outdoor event space. Lisboeta Macau aims to deliver an all-encompassing experience sure to entice guests of all ages, to be a strong tourism source to support long term development of Macau tourism.
ZIPCITY MACAU promotion offers to families, students, and groups :
Family Offer:
2 Adults & 1 Kid : MOP 988
2 Adults & 2 Kids* : MOP 1,218
Each Extra Kid : MOP 288
(*Kids refer to participants with age under 18 years old)
Student* Offer:
Group of 4 : MOP 1,288
Group of 8 : MOP 1,998
(*Students refer to university ID holders)  
Group Bookings and Special Events:
For group booking with 10 participants or more, or any special events arrangement, please email contact@zipcity.com or call 853-28886785 for more details.
Double Flight Offer:
Re-ride in same day : MOP 188 per person on second flight onwards
For media enquiries, please contact us at contact@zipcity.com